Become Our Patient
Thank you for considering our practice of general pediatrics. Our group, started in 1968, and is comprised of Board Certified Pediatricians and Nurse Practitioners. Each of us rotates amongst our four office locations and is on-staff at Northside Hospital and Children's Healthcare of Atlanta at Scottish Rite.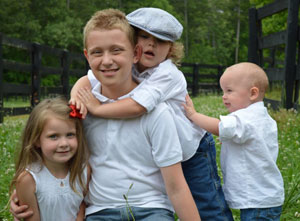 Our nurses are available to provide telephone advice and answer questions during office hours. Our pediatricians return emergency phone calls after hours and are on-call for our practice 24 hours a day.
Appointments are scheduled in advance. We ask that you notify us as soon as possible if you are unable to keep your appointment. You may call as early as 8:00 AM to schedule an appointment for that day. We make every effort to minimize your wait time and apologize in advance for any unexpected delays that may arise while treating an extremely ill child.
Well-child check-ups are done Monday through Friday. Recommended check-ups are at 3 days after a newborn's hospital discharge, 1-month, 2-months, 4-months, 6-months, 9-months, 12-months, 15-months, 18-months, 2-years, 30-months, 3-years, 4-years, and annually thereafter. Additionally, an annual physical exam is required for most private schools, sports and summer camp participation. Our immunizations and screening tests given during our well-child check-ups follow the guidelines of the American Academy of Pediatrics. Consultation visits can be scheduled to discuss complex concerns and issues. These visits are typically arranged after a brief telephone conversation with a physician and are scheduled at the physician's discretion.
Our patients range in age from birth to 21 years old, as long as the child is enrolled in school. Additionally, we provide care to children who are visiting our community and, if needed, will continue to provide services during their stay in the area. Our visitor policy is to collect payment in full. It is the parent's responsibility to file the claim with their insurance carrier. Payment is requested at the time of each visit. We ask that you present your insurance card upon arrival at each visit due to the frequent changes in health care insurance information. Please feel free to give us a give us a call if you would like additional information about Georgetown Pediatrics. As a group, we are dedicated to providing the best pediatric care for your child and your family!